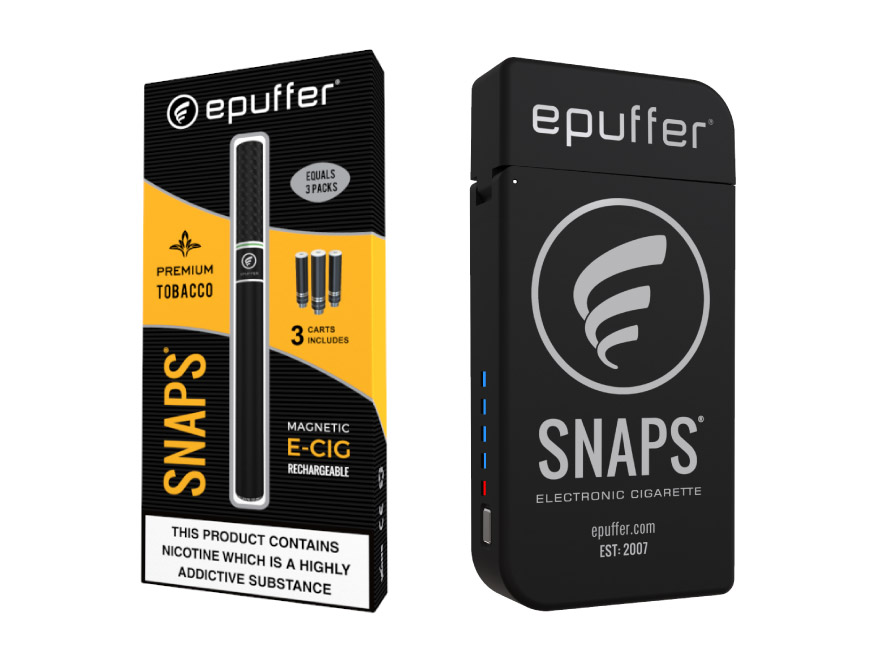 The SNAPS E-Cigarette: Fast Charging, Convenient, Portable, Flavorful
If vaping seems overly complicated to you, you aren't alone. For people just getting into vaping for the first time, the sheer amount of information and number of choices can easily become overwhelming. However, vaping doesn't have to be confusing or difficult; in fact, it can and should be an easy, enjoyable experience and a great alternative to smoking traditional cigarettes.
Whether you're just starting out in the world of vaping or you just want to find the simplest and most convenient way to vape, the e-cigarette is a fantastic choice. There are many reasons that e-cigs are so popular, such as:
They're more similar to traditional cigarettes. E-cigs are also known as cigalikes and for good reason. These devices emulate the experience of smoking traditional tobacco cigarettes – they're lightweight, held just like you would hold a cigarette, and they are draw-activated. Many e-cigs even have tips that light up when you puff to simulate the experience of smoking as closely as possible.

They're portable. E-cigs are small and sleek, easily fitting into your pocket or purse. Unlike a larger vape mod or another device with multiple parts to carry around, an e-cigarette is one contained unit that's ideal for transport and use anywhere, anytime. Forget rules about where you can and can't smoke; take your e-cig with you no matter where you go for the satisfaction you crave.

They come in both disposable and rechargeable formats. Rechargeable and disposable e-cigs each have their own unique advantages. With a rechargeable device, all you have to do is choose the vape juice flavor of your choice and charge your battery, and you're ready to go. A disposable e-cig takes it a step further and does the charging for you – when your disposable e-cig is done, you can simply throw it away and replace it with a fresh one.

At ePuffer, we offer a range of e-cigarettes to suit a variety of needs and preferences. Our SNAPS line of cigalikes includes both rechargeable and disposable options. Buy a starter kit, an individual e-cig, or a 12-pack, depending on your needs. When it comes to the flavor of the e-liquid in your device, you have plenty of options. Because we understand that many individuals choosing e-cigarettes are looking to duplicate the experience of smoking as accurately as they can, we offer a range of tasty tobacco flavors, including:
Premium Tobacco

Lux Tobacco

Mirabella Tobacco

5X5 Tobacco

Robusto Tobacco

Menthol
Just as different brands of cigarettes have different flavors, our different tobacco flavors each have their own unique notes and nuances. Our disposable ECO e-cig also comes in a delicious Caramel Mocha flavor. Feel free to experiment with our products to find your favorites!
If you're looking to buy a vape online but are concerned about the confusing range of options or just want an experience that's as close to smoking as possible, then the ePuffer SNAPS e-cig is for you. We hope you enjoy your e-cigs and your journey into the world of vaping.