Choosing the right e-cigarette is essential to ensuring that you get the most out of your vaping experience. One of the most common questions we hear from people trying vaping for the first time or even longtime vapers looking for a different experience is, "Which product is right for me?" There are so many types of vapes, liquids, and accessories that, even if you aren't new to vaping, it can be overwhelming to narrow down your choices.
Our range of products includes a variety of devices, flavors, and accessories you might like, but right now, we're particularly excited about our brand-new rechargeable XPOD This device features ePuffer's award-winning SNAPS® magnetic atomization technology for smooth, easy operation. The sleek, modern XPOD also boasts a type-C fast USB-3 charging port, a 375mAh quick rechargeable battery, a 1.5ml pod cartridge capacity, and come in a variety of stylish colors ( Carbon Navy, Pearl White and Violet).

Users have the option of a range of prefilled pod flavors as well as blank pods, which can be filled with the user's flavor of choice. With an XPOD rechargeable vape pod, users experience the convenience and satisfaction of vaping with a lightweight, compact device that's perfect for carrying with you in your pocket or bag to be enjoyed anytime and anywhere you like.
Along with the rechargeable XPOD, we're also rolling out six new flavors for your vaping enjoyment: Lemon Fusion, Flue-Cured Tobacco, Butterscotch Tobacco, Double Apple, Double Mango, and Menthol.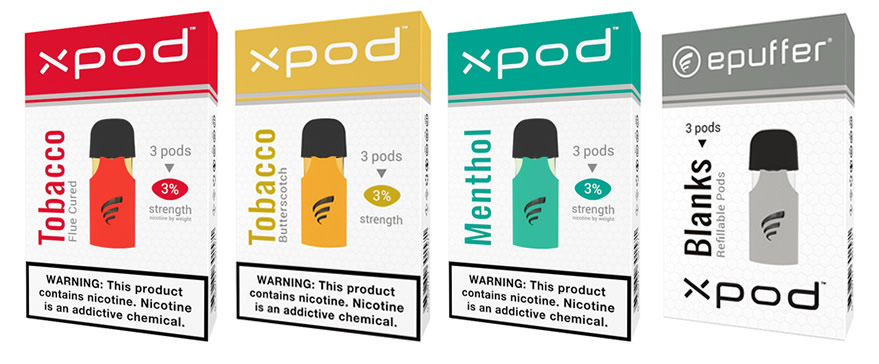 These flavors join a vast lineup of existing flavors, such as Coffee Caramel Mocha, Cassis Blackcurrant Apple, Grape Shisha, Cherry Shisha, Raspberry Mint Mojito, Melon Daquiri Blitz, Strawberry Margarita, Banana Vanilla Blast, and Blueberry Custard – as well as a variety of natural tobacco flavors to satisfy even the most discerning purist.

Update: February 1, 2020
The FDA has banned flavored pods: Double Mango, Lemon Fusion and Double Apple prefilled flavors pods are no longer allowed for sale in the United States.
We're hearing from our customers that puffing on their XPODs provides the same gratification as smoking cigarettes because of the smoke-like vapor and satisfying throat hit. However, when exhaled, the vapor disappears within seconds, unlike tobacco smoke, which can hang around and cause lingering odors for days or weeks.
Not only will the XPOD not cause lasting odors, but it also won't leak or clog, and there won't be any nicotine buildup to deal with later. When your cartridge is empty, you can simply discard it and replace it with a fresh one. Or, if it's a refillable cartridge, you can fill it with the flavor of your choice, from the new flavors listed above to any of ePuffer's many delicious flavors already available.
Getting full enjoyment out of vaping depends heavily on finding the right device for you, one that suits your needs, preferences, and lifestyle. The XPOD and its range of flavor choices are making waves in the vaping community, and we're always thrilled to see new users choosing vape products over traditional smoking. Feel free to contact us if you have any questions, and have fun browsing our online store and picking out your new vaping devices, accessories, and fun new e-liquid flavors.